Bay Area Anniversaries DJs | Wedding Anniversary DJ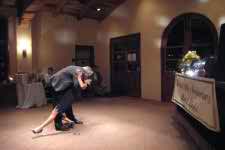 Give me a Call DJ Chris – 1-800-568-0443
We Specialize in weddings anniversary, 50th commemorations, 75 years of age, twentieth commemoration.
We modify the music to fit your tastes, your visitors, and the inclination of your occasion in San Francisco Bay Area.
Cheerful Anniversaries to Steve and Marie 50th Wedding aniversary San Jose Fairmont July 2016
A debt of gratitude is in order for the colossal music.Everybody adored the oldies and the sound level was great.
Thank you such a great amount From steve and marie 9252237379
Plate Jockeys (DJs) Across The San Francisco Bay Area For your Anniversary Occasion Event.
Wedding commemoration DJs and Mobile Disk Jockeys for Parties.
For More Detailed Reception Info Please Click Here!
Realities: Remember when DJs initially began on the radio, then at private partys utilizing records, or playing music from the jukebox, 8 tracks, then cassetes, Now most DJs play off albums or even of the PC. I hear numerous individuals saying how they used to love listening to there music in this way.It brings back memorys that will keep going forever..
Discover Bay Area Anniversary Disk Jockey Locally :
We are currently offering reduced rates for Weekday and Sunday Wedding Anniversarie !
Get some information about our Video Screen Projection System for your recollections!
What is A DJ ?
A circle move (additionally called DJ, or DJ) is a person who chooses music and plays melodies … The term plate maneuver was initially used to depict radio commentators who might chooses and plays prerecorded music for a target group.

Submit your Anniversary booking!
How long Have You Been Married ?
| YEAR | TRADITIONAL | MODERN |
| --- | --- | --- |
| 1 | Paper | Clocks |
| 2 | Cotton | China |
| 3 | Leather | Crystal,Glass |
| 4 | Fruit/Flowers | Appliance |
| 5 | Wood | Silverwarea |
| 6 | Candy/Iron | Wood |
| 7 | Wool/Copper | Desk Set |
| 8 | Bronze/Pottery | Linen/Lace |
| 9 | Pottery | Leather |
| 10 | Tin/Aluminum | Diamond Jewelry |
| 15 | Crystal | Watch |
| 20 | China | Platinum |
| 25 | Silver | Silver |
| 30 | Pearls | Diamond Jewelry |
| 35 | Coral | Jade |
| 40 | Ruby | Ruby |
| 50 | Gold | Gold |
| 60 | Diamonds | Diamonds |